In cohousing Moos°Herk kan je vanaf 2023 zorgeloos wooncoopen! Wie ons volgt wist dat natuurlijk al langer. Enkele grote stappen werden gezet en dat stellen wooncoop, toekomstige bewoners en architect jullie graag voor.
Op 28 november maakt Moos°Herk haar finale plannen bekend. Dat wil zeggen dat je alles te weten komt over het project en de woonkosten. In de verdere loop van de week krijg je de kans om je aan te sluiten voor een vragenrondje met de architect of wooncoop, en kan je inschrijven op een ontmoeting met de toekomstige bewoners. Alles veilig online (uiteraard)! Ook interesse om te cohousen in Limburg?
Meer info en inschrijven kan hier.
Op de projectpagina vind je alle informatie over het project. 
https://www.wooncoop.be/moosherk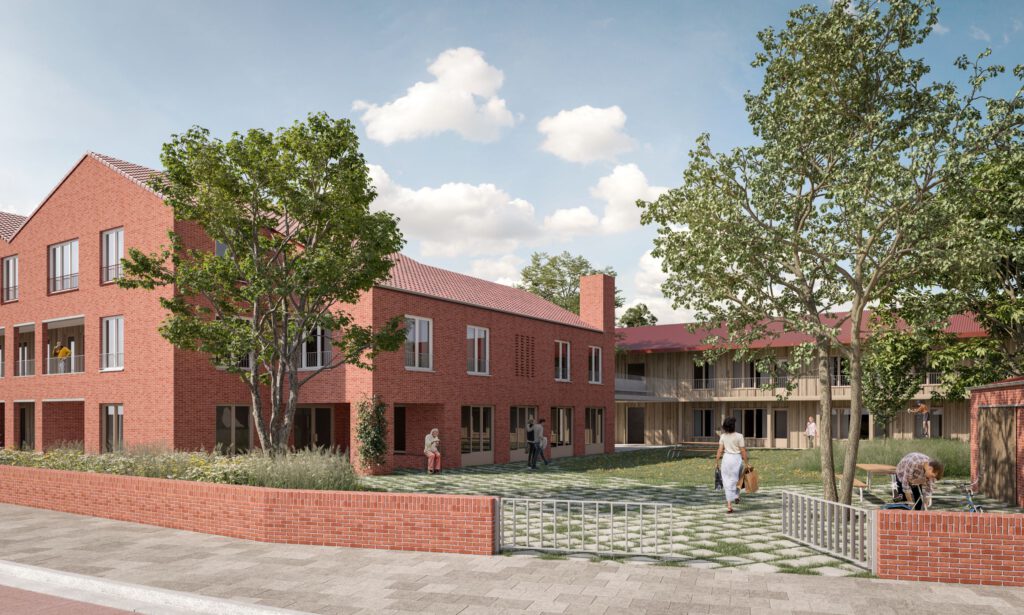 Cohousing Moos°Herk (Hasselt) koos in februari van dit jaar ectv als architectengroep. Dat was een schot in de roos! Momenteel staan we klaar om het generieke ontwerp te verfijnen en het spel van de units te gaan spelen. Ook de landschapsarchitect gaat van start om te fijne grenzen tussen privé en collectief te tekenen met groen en plekken voor spontane ontmoetingen te creëren bij de brievenbussen onder een boom of in de grote gedeelde tuin. Uitermate boeiend, dat moet niet meer gezegd worden. Wanneer je interesse hebt om bewoner te worden in het eerste échte cohousing project van Hasselt, zit je meteen mee aan de ontwerptafel. Meer info op www.cohousinghasselt.be of mail naar annelies@wooncoop.be.
De stad Hasselt zet in zijn beleidsplan in op nieuwe woonvormen.
Het cohousingproject Moos°Herk in Sint-Lambrechts-Herk is er zo eentje. Jij kan er deel van uitmaken! Stad Hasselt organiseert samen met de bewonersgroep van Moos°Herk een groot infomoment op zaterdag 21 maart tussen 11u en 16u in het Hasseltse cultuurcentrum Kunstlaan 5.
Interesse om er te gaan wonen ? Ben je een groep op zoek naar een site?
Om 11u en 14u is er een toelichting van het project en wooncoop.
Welkom voor al je vragen.